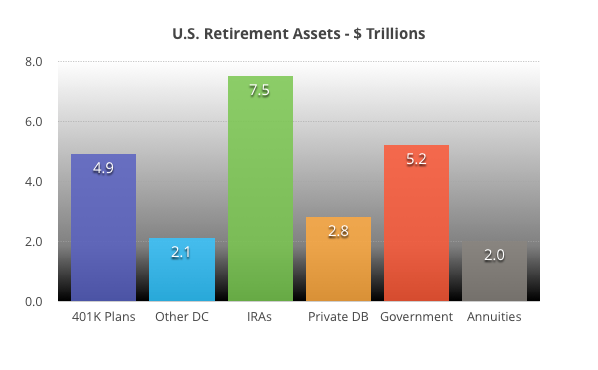 401K plans are an important part of the retirement assets landscape. A new study by the Investment Company Institute and Brightscope reported on the details of 401K plans and how they fit into the bigger picture.
This December 2016 report studied data from about 500,000 2014 Form 5500 Department of Labor filings and Brightscope's Defined Contribution Plan Database.*
401K Plans Compared to Other Retirement Assets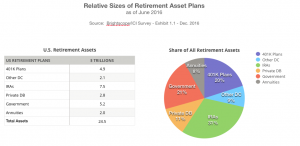 With $4.9 trillion in assets in June 2016, financial advisors will want to consider some of the key findings in the report.
---
401K Plans Survey Key Takeaways
69% of employers that sponsor small 401K plans (less than $1 million in assets – fewer than 100 participants) contribute to the plans on behalf of employees
More than 90% of employers contribute to the largest plans. As plan assets grow, more employers contribute
Employers contributed $115 billion to plans, about one-third of total contributions in 2014
Small plan mutual fund fees can be significantly higher than those of large funds
Overall 401K Plan Costs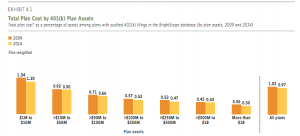 Note: Total plan cost is BrightScope's measure of the total cost of operating the 401(k) plan and includes asset-based investment management fees, asset-based administrative and advice fees, and other fees (including insurance charges) from the Form 5500 and audited financial statements of ERISA-covered 401(k) plans. Total plan cost is computed only for plans with sufficiently complete information.
---
More 401K Plan Findings
Employers contributed in 95 percent of the large plans with 5,000 participants or more
In 25 percent of the large plans, employers' contributions were independent of employee contributions
Simple employer contribution matching formulas were found in 45 percent of 401(k) plans in the BrightScope large-plan database.
Fourteen percent of 401(k) plans in the large-plan database had a tiered formula, with employers matching different levels of employee contributions at different rates
The average 401(k) plan offered 28 investment options, of which about 14 were equity funds, four were bond funds, and seven were target date funds
Overall, mutual funds represented 46 percent of 401(k) plan assets
Target date funds have become more popular, with 76% of 401Ks offering these funds
Index funds have also become more popular, representing 26% of all plan assets
401K plan's recordkeepers' proprietary investment products represented more than one-quarter of total plan assets
See the full report.
*This report first analyzes 401(k) plans in the Department of Labor 2014 Form 5500 Research File and approximately 30,000 audited 401(k) plans in the BrightScope Defined Contribution Plan Database, which have between four and 100 investment options, at least $1 million in plan assets, and usually 100+ participants.